On October 17th, 1973 Franklin Turnpike in Mahwah was renamed Mahwah Firemen Turnpike in honor of the township's volunteer firefighters. Mayor Livingstone Goodman (upper right) took part in the dedication ceremonies along with Fire Chief Edward Wysocki (upper left), Joe Girvan (lower left), battalion chief, and Harold Pfitzner, first assistant.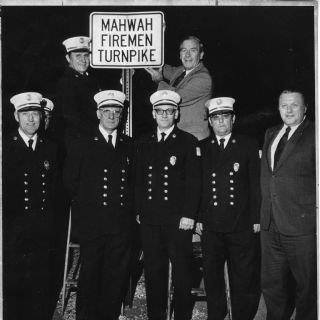 Give this post a share!
Note: Any images found on this post, or anywhere on this website, are the sole property of Mahwah Fire Dept. Co #1 and may not be used or reproduced for any reason without express permission. This includes any news media organizations and private entities.